From Plastic Bottles

Machine Washable

Perfect for Everyday
Made from recycled plastic bottles
100% recycled
100% washable
100% beautiful
ANEW's journey from plastic to purpose
1
We saved plastic bottles from landfills
2
Cleaned and shredded them into chip form
3
Turned them into small plastic pellets
4
Spun them into yarn then wove ANEW
GOOD FOR THE PLANET
100% Recycled Plastics
Each ANEW Mini is sustainably constructed from 8 recycled polyethylene terephthalate (rPET) bottles, protecting marine life and reducing toxic emissions from plastic incineration. Here's to doing good for this planet, together.
EASY TO CLEAN
A Machine-Washable Bag
As fuss-free and durable as they come, it's easy to keep your ANEW Mini clean. Simply put her in the washing machine, set it on the delicate cycle then air-dry away from artificial heat. She'll look like new!
A MODERN DESIGN
Chic Sustainable Style
Your favorite arm candy, the ANEW Mini comes in a variety of color-blocked designs with sturdy silver matte hardware that ties it all together. Wear your ANEW any way you like - hold her by her handles, over your shoulder as a classic handbag or go hands-free with the Mini across your body.
SPACE FOR EVERYTHING
Every Single Essential
Everything you need when you're on-the-go fits wonderfully into the ANEW Mini. Phone, wallet, keys, compact, notebook, pen and more can sit nicely within her roomy confines. A small inner compartment helps keeps things organized.
Complete Your Look
🔥 Take $30 OFF 2nd Item 🔥
We are a business that gives back.
Feed a child with every purchase
Donation: 10% of profit
Goal: Give $1M to children in need
What others are saying
Product Reviews
Customer Reviews
Write a Review
Ask a Question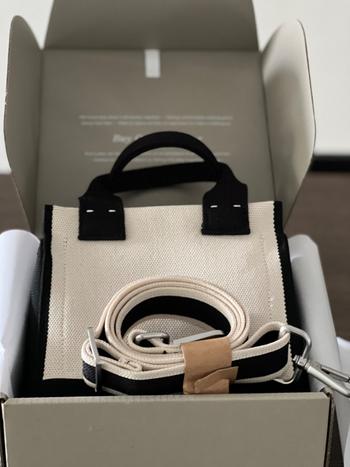 04/12/2022
I recommend this product
Anew mini bag
Love it. Delivery was fast too.
Angeline L.

Singapore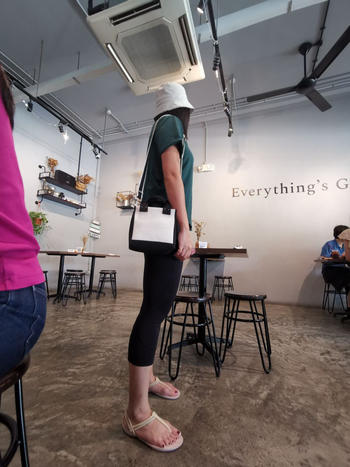 04/12/2022
I recommend this product
Cute, but essentials only
I love the cream-black colour contrast! The bag is sooo irresistibly cute. Even though it is slightly soft, it is sufficiently structured and sturdy so the bag doesn't go out of shape when there's things in it. Wide straps make really good carrying experience. The inner pocket is good for slim items. This is really a bag only for essentials, but it fits a surprisingly amount of stuff. If your wallet/e-reader is a little bigger it won't fit unless you don't zip...
Charlotte C.

Singapore
06/06/2022
I recommend this product
Mini bag
Love their products alot. Bag is very small. But light and material is soft....very surprising me ...make out of plastic material can produce such great bag. Hopefully to see a bigger big with this material soon. Thank you for great service
Yvonne t.

Singapore
06/02/2022
Cute and practical
It is just the right size for essentials. It fits my large phone just right and also has space for sanitizer, tissue n a small wallet. It matches well with most outfits and I don't need to worry about it getting dirty since I can wash it.
Sharlene T.

Singapore
05/21/2022
I recommend this product
ANEW Mini Bag - Cream Black
A pretty and cute bag!
Weitian S.

Singapore
05/16/2022
Anew bag
Love this bag. Good mini size for everyday use
Edna T.

Singapore
05/12/2022
I recommend this product
ANEW mini bag - cream black
Even though its small.. its lightweight and can put quite a lot of stuff. Very good bag to use..
Winnie T.

Singapore
05/02/2022
Quality bag
The bag is a good size for carrying the essentials: phone, small card case, hand sanitizer, mask, keys. The zipper gets stuck a bit, but I hope that goes away with use. Unfortunately my giant phone doesn't fit in the slip pocket, so I put my credit card case in there instead.
Anne G.

United States
04/20/2022
I recommend this product
The new bag to have
Great size just enough space for the essential. Fabric fantastic More bags please
Charlotte D.

Singapore
04/13/2022
I recommend this product
Super Beautiful Plastics Recycle bag!
Love the size, looked cute and small but could bag a punch! Material is so nice and beautiful, If I didn't know, no one would have thought this came from recycled plastics. The only drawback is I can't decide on which colour to get! Ended up with the cream but I would like to get the blue too. Well, no ways to get it now, will have to wait I guess, It's my small little part of creating less footprint.
Valerie L.

Singapore
04/12/2022
I recommend this product
ANEW Mini Bag
Thank you for the little grorgeous beauty. Small and functional - fits in wallet and handphone easily. Manage to stuff in a mini umbrella too!
Anne H.

Singapore
04/11/2022
I recommend this product
Cute little bag
Good quality, nice design, ideal if you want to carry only a few necessities
Denise M.

Singapore